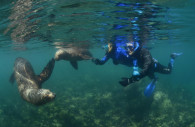 The tour: sea lions, southern right whales, Magellanic penguins and sea elephants are some of the animals that choose Península Valdés as their breeding place every year.
These species can be seen on the shores from December to January.  But the sea lions, also known as fur seals, stay in the warm waters of the Golfo Nuevo all year round, at the Punta Loma Nature Reserve, south Puerto Madryn. Diving with them is an unforgettable experience.
Requirements: Level 1 PADI or equivalent.
Age: children aged 4+ are allowed onboard. To be able to dive, children will need a 1 star certificate.
Seasons: all year round. Water temperatures are constant and relatively high in the Golfo Nuevo (16-18° C). However, air temperatures and, mainly, the winds that blow over Patagonia, cause temperatures to feel much lower when coming out of the water.
Circuits: Scuba diving with fur seals may be included in any of the Península Valdés circuits, particularly in the Península Valdés and Esteros del Iberá (Iberá Marshlands) photogaphic safaris.